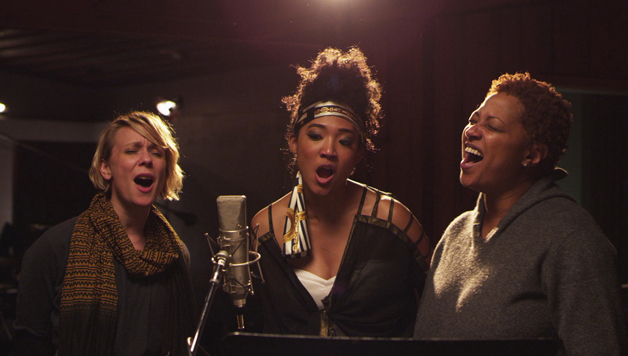 Coarse language
---
USA 2013
Director: Morgan Neville
Featuring: Darlene Love, Merry Clayton, Lisa Fischer
Running time: 91 minutes
---
The history of showbiz is littered with stories of talented people left out of the limelight – valiant professionals whose unsung efforts enabled brighter stars to shine. In this excellent documentary the spotlight is turned onto background vocalists, or 'backup singers' – the artists whose voices we've all heard, bringing life to the hits, but whose faces we've never seen.
Those faces, it turns out, are mostly female and mostly black. The daughters of preachers and churchgoers, these women learnt their trade harmonising in choirs and singing Baptist hymns, where the focus was on 'the blend' – the joining of many individual voices into a sweet-sounding whole. This mysterious merging is effectively illustrated in the film by a scene featuring the synchronised patterns created by a flock of black birds swooping in unison through a blue sky.
Many of these artists have voices so powerful and distinctive that they've been on the brink – or briefly tasted – stardom as soloists. The fact that this crossover rarely turns into a successful commercial career is part of the tragedy the film explores at length. It's disturbing and moving to see these hopes dashed, especially in the case of Darlene Love, whose career was stalled by the dastardly doings of Phil Spector. As Bruce Springsteen says in one of the film's key interviews, those twenty feet from the back of the stage to the front can be a very long way to travel.
The film sometimes feels a trifle drawn out and is occasionally repetitive, but for music lovers, history buffs and students of the fame phenomenon, it's invaluable. And to the art of backup singing, the film is a long overdue tribute.
Review: Rochelle Siemienowicz, SBS Movieguide - Extracted by Gill Ireland