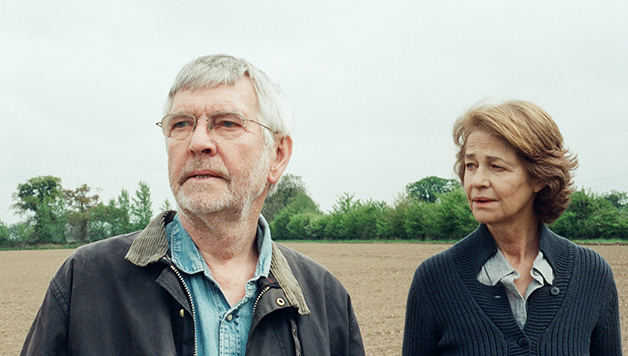 Violence and nudity.
---
UK 2015
Director: Andrew Haigh
Featuring: Charlotte Rampling, Tom Courtenay
Running time: 98 minutes
Original review: Louise Keller, Urban Cinefile
Extracted by: Robin Claxton
---
This film digs deep into the fabric of a 45 year old marriage whose even texture starts to un-ravel, when unspoken issues are suddenly voiced. What begins as an unassuming portrait of a relationship develops into a drama in which the action is internal. As the revelations slowly come to light, the full force of the drama explodes into an emotional fireworks display. This is a film to savour.
The opening scene looks like a beautiful, wintry landscape painting with its naked trees, picturesque farmhouse and dog running across the bare field. The sound of birds is the natural musical accompaniment to this tranquil scene in rural Norfolk. Then we meet Kate Mercer (Rampling), walking the dog before heading into town to make the final arrangements for her up-coming 45th wedding anniversary celebration. The function room is filled with history - 'like a good marriage', says the organiser. Kate is calm, composed and totally in charge of her life and relationship with Geoff (Tom Courtenay).
We do not have to wait long before the arrival of the pivotal letter that reopens a previously closed chapter of Geoff's life. My Katya; they found my Katya, he says on hearing the news that the body of the woman he knew before Kate had been found in the Swiss Alps - frozen in a glacier. Kate's initial superficial interest develops into curiosity. Hurt, concern and obsession follows. Has Katya been an invisible presence in their marriage for 45 years? The camera lingers on Kate's vulnerable face in bed, as Geoff begins talking about Katya and the past until Kate can no longer bear to hear any more. In a countdown to the Saturday wedding celebration, the secrets of the past begin to be revealed. But Katya's body is not the only thing that is frozen in time. Precious memories and rare photographs are treasures that act as a reminder of important life choices and happy memories.
Kate is the perfect wife - caring, loving, reassuring even when sexual performance disappoints. Courtenay is also excellent, revealing little except reticence to open up emotionally. A wonderful collection of musical gems from the 50s and 60s effectively captures the era and the bittersweet ending that features Smoke Gets in Your Eyes has an intense emotional payoff.