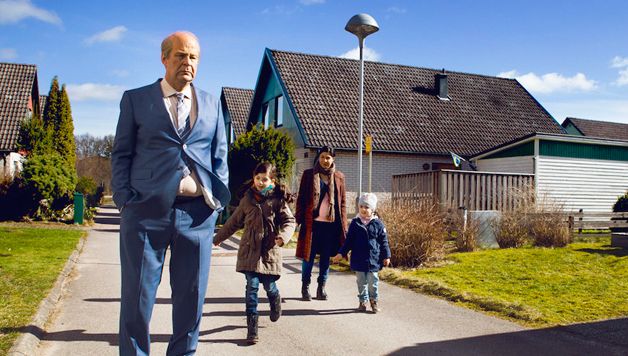 (En man som heter Ove)
Mature themes and coarse language.
---
Sweden: 2017
Director: Hannes Holm
Featuring: Rolf Lassgard, Bahar Pars,
Filip Berg, Ida Engvoll
Language: Swedish, Persian
Running time: 116 minutes
Original review: Chelsea Wick; FILMINK
Extracted by: Robin Claxton

---
Hannes Holm's Swedish comedy drama beautifully explores the life of the neighbourhood's resident old grump, Ove (Rolf Lassgard). The film was a major critical success in Europe and was the winner of Best European Comedy at the 2016 European Film Awards. 59 years old and widowed, Ove is cynical, antisocial and impatiently wishes to reunite with his deceased wife. Just as he is about to attempt suicide, he is interrupted by the sound of his new neighbours, pregnant Persian immigrant Parvaneh, her Swedish husband and two young daughters. While they start as yet another annoying disturbance to Ove's regimented suburban life, they become next-to-kin friends who bring light into his life which he had already given up on.
As well as being depressed about his wife, Ove is also fired from his job after working diligently for 42 years. You can feel his frustration as the two stupid men in their twenties remind him of the increasing digitalisation of the workforce, showing no respect for their hard working senior. Ove, who had felt useless and left behind by the world, discovers his power to significantly help his new friends. As the story progresses, we learn about Ove's past, his experience with death, tragedy and loss as well as his dance with romance and well-earned achievements. As he opens up, the grumpy old man exterior does little to hide his big heart, his distinctly Swedish and charming wit and love for others.
The film triumphantly highlights the spontaneity of life. While it may cause pain, you must not give up as great happiness can be found just around the corner, across the road or next door. It inspires us all to keep living on and striving forward. While our pasts are precious and must never be forgotten, it is important to remember that those events are behind us and new opportunities await us in the future.