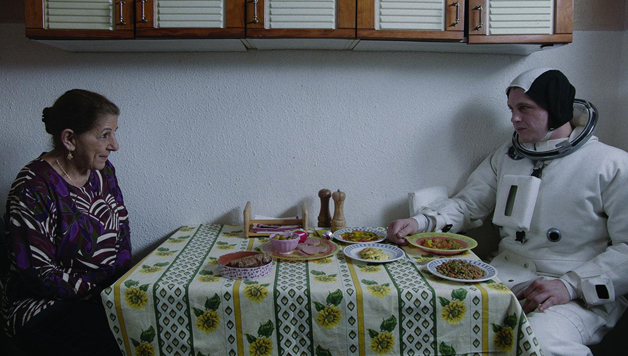 Coarse language.
---
France 2015
Director: Samuel Benchetrit
Featuring: Gustave Kervern, Valeria Bruni-Tedeschi, Isabelle Huppert, Michael Pitt
Language: French with subtitles
Running Time: 100 minutes
Original review: Christian Herschmann, Cannes Film Festival
Extracted by: Peter Gillard

---
An apartment complex in a forlorn urban estate; the dismal setting indicates anonymity, grey joylessness and very low social status. French author/director Samuel Benchetrit picks out isolated characters from the fringes of society to explore their possible interactions in three loosely connected couple scenes. What he finds, and shows with a lot of humour and heart, is that people only have to get together to turn indifference into kindness, strangeness into solidarity and frustration into lust for life. Of course, Asphalte is also an absurd fairytale. There is lonely Sternkowitz who rolls around in his wheelchair by night and stuffs himself with crisps from the hospital vending machine. He meets a nurse from the nightshift and, slightly offguard, pretends to be a photographer for National Geographic, scouting for subjects. When she asks him to return and show her some of his pictures, his dusty Polaroid camera must give everything.
Having recently moved into a flat on another floor, washed-out former actress Jeanne has some chance encounters with a sly neighbour who calls himself Charly. His genuine interest in her faded career and readiness to help are unexpected encouragement for the aged alcoholic. Finally and even more unforeseeably, a NASA escape capsule lands on the roof of the building, leaving American astronaut John McKenzie clueless about his whereabouts. It turns out there were some miscalculations and he is forced to stay where he is for two days: at the apartment of Mrs Hamida, a lovely French-Algerian lady, who does not speak a word of English but soon develops maternal feelings.
Benchetrit turned his own autobiographical book into this heart-warming screenplay and, with the help of a great cast, manages to let the small and unlikely tales carry universal values. What's more, he avoids any unnecessary heaviness, delivering the messages in a light and entertaining way. Asphalte will surely brighten up your day.