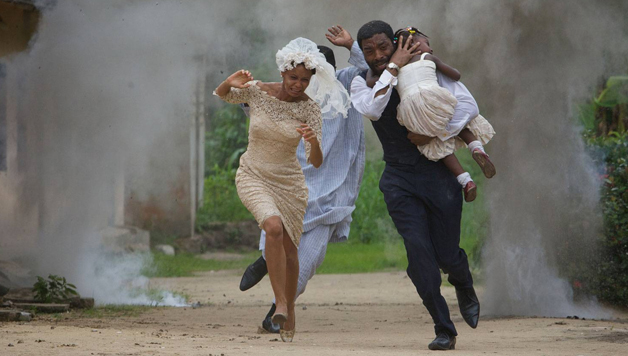 Violence and sex scenes
---
Nigeria/UK 2013
Director: Biyi Bandele
Featuring: Thandie Newton, Chiwetel Ejiofor, Anita Noni Rose, Joseph Mawle
Running time: 111 minutes
---
Olanna and Kainene, are aloof, haughty and beautiful sisters, daughters of the ruling class who figure they can go their own way now that the yoke of British oppression has been lifted off their shoulders. Not that they've been oppressed. Not personally. In 1960 Lagos, they wear the high fashion and sport the posh accents of the Brits. Like African Kardashians, they are giving "our fellow Nigerians something to aspire to."
Kainene may pretend to rebuff the advances of a white academic, but she's curious, and figures she deserves no less than someone from her class, even a white man.
Olanna is smitten with the impeccable taste — French wines, Western furniture and cars — and fiery rhetoric of Odenigbo whom her sister dismisses as "your revolutionary lover." Odenigbo has a job at a provincial college and Olanna goes there to live with him and teach. But his traditional, village mother doesn't approve. "There is a WITCH in my son's house!" She's not being metaphorical, either. She thinks the city woman in designer dresses has bewitched her son.
But they all soon have bigger problems than the soap operas that make up their love lives. "Half of a Yellow Sun" is the symbol on the flag of Biafra, a breakaway state that fought a civil war for its independence from newly oil-rich Nigeria in the years after British rule. Odenigbo is the classic academic idealist, trumpeting the reasons for independence at wine-besotted gatherings with his colleagues.
"The only authentic identity for an African, is his tribe!"
"Half of a Yellow Sun" has the authentic feel of history as it instructs us on the ways tribal prejudices were converted into class prejudices and how a Biafra, can still happen.
Original Review: Roger Moore McClathcy; Tribune News.
Extracted by Peter Gillard