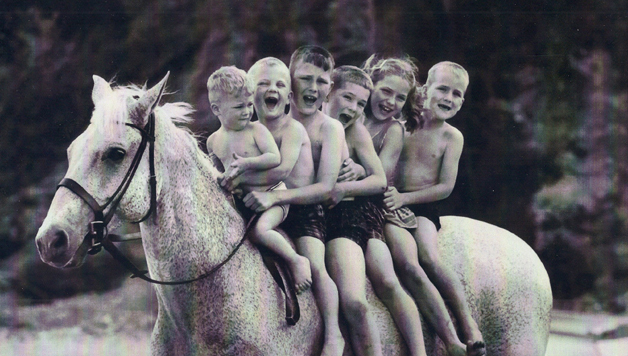 Very mild themes.
---
USA 2016
Director: Ron Davis
Written by: Ron Davis
Running time: 83 minutes
Original review: Leigh Paatsch, Herald Sun, Jake Wilson, The Age (Requested by an LFS member)
Extracted and compiled by: Anne Green

---
It's surprising some enterprising filmmaker hasn't already leapt on the story of Snowman, the Long Island plough horse rescued from the slaughterhouse to become a national show-jumping champion in the 1950s. As recounted in Ron Davis' documentary, it's a classic underdog tale in more ways than one: Snowman's rider and trainer Harry de Leyer too was something of an outsider, a self-made Dutch immigrant who managed to beat high society at its own game.
The movie is told from the perspective of one of de Leyer's eight children, with plenty of readymade heart warming scenes. At one point Snowman was sold to a neighbour, but his devotion to de Leyer inspired him to leap the fence and race back home. Inside the space of two years, the pair became the most formidable force that the sport of prestige showjumping has ever seen.
Both subjects under a misty-lensed microscope here are colourful, one-of-a-kind characters you will never forget meeting. Harry and his wife had eight children, and a highly unusual way of seeing life. At least in terms of how life was supposed to conducted in mid-20th century America. As for Snowman, he just loved being around people, whether performing for a crowd at the height of his powers, or offering a small child a ride on his back.
Though there is not a lot of footage in existence of Harry and Snowman slaying packed arenas in their high-flying prime, you can tell by the looks on the faces of the many eyewitnesses talking here that the duo were an exhilarating sight. Especially when you factor in that Snowman was an elderly 14 years of age before he ever lifted a hoof over a jump in any kind of competition!
A sincerely delightful documentary about the special, life-defining friendship that was shared between an unfashionably-bred farm horse and the man who saved him from a one-way trip to the glue factory.