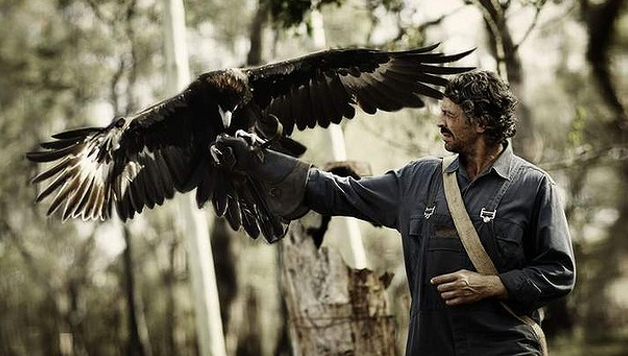 Coarse Language
---
Australia: 2014
Director: Craig Monahan
Featuring: Hugo Weaving, Don Hany, Xavier Samuel, Mark Leonard, Anthony Hayes
Running time: 119 minutes
---
Healing is the story of Viktor Khadem, who near the end of a sixteen year jail sentence is sent to a low security prison where, under the eye of a compassionate prison guard Matt, he is put in charge of a program that helps care for injured birds in conjunction with the Healsville Sanctuary. He takes a particular shine for a wounded wedge tail eagle named Yasmine.. Together, Yasmine and Viktor prepare for their eventual releases from captivity and deal with the issues of returning to their natural habitats.
Viktor is an Iranian-born prisoner who has killed a friend who dishonoured him. He is also reputed to have killed another prisoner in the maximum-security Pentridge. As he nears the end of his sentence, he is transferred to Won Wron, a minimum-security prison. The other prisoners, aware of his reputation, generally give him a wide berth.
Loosely based on a true story, it tracks the path to redemption of a hardened, closed-off prisoner through a program that restores injured raptors (eagles, hawks, owls) back to health. The portrayal of the parallels between the healing of these birds ahead of them being set free, and the similar process at work in the prisoners who look after them, could be corny but is understated and moving - more so because it is plain that neither the birds nor the prisoners are guaranteed success once released.
It is a spectacularly shot film, with the birds competing with Viktor and Matt for centre stage. But more importantly, it is a refreshingly different prison story, told with gentle humour and compassion, and firm in its declaration of support for second chances.
Original review by Eric Penumbra-Prisonmovies.net
Extracted by Janez Zagoda