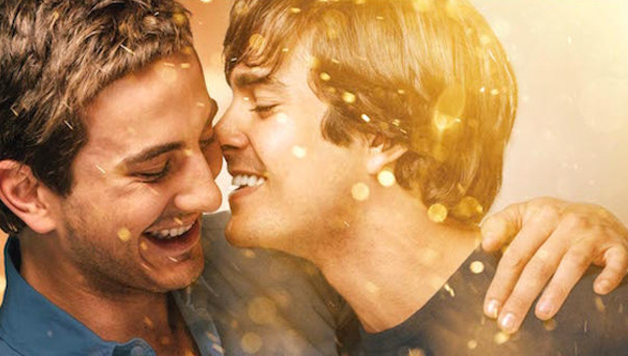 Strong sex scenes and nudity.
---
Australia 2015
Director: Neil Armfield
Featuring: Ryan Corr, Craig Stott, Guy Pearce ,Anthony La Paglia, Geoffrey Rush
Running Time: 128 minutes
Original review: Louise Keller,Urban Cinefile
Extracted by: Gail Bendall
---
Holding The Man is the warm, funny and achingly sad story of the 15 year long love affair between Timothy Conigrave and the boy he fell in love with at high school, John Caleo. Tim was an aspiring actor. John, the captain of the school football team. Their relationship blossomed and endured in the face of prejudice, adversity and the cruel illness that devastated the gay community in the '80s.
Exquisitely told, director Neil Armfield has captured the beauty of this story whose emotional trajectory we share: joy, laughter, prejudice, outrage, pain and devastation. It's devastatingly sad and, although we know from the outset where the story is heading, we are able to embrace and experience something we will not forget.
It is 1976 and Tim notices the school football team captain, John and his extraordinary eyelashes on the field. The controversy and homophobic prejudice begins quickly at the Jesuit all-boys school and at home where John's father (Anthony LaPaglia) threatens court action if the affair continues.
The flashbacks include the University days in 1979 when Tim successfully auditions for drama school and the tension when he proposes that he and John have a trial separation and indulge in other sexual relationships. Multiple partners, promiscuity and group sex follows.
The downturn in health and the changing relationships with family, account for the final chapters of the tale, when love and tenderness prevail. Some of these scenes are difficult to watch and overtly moving as we see first hand the tragic progression of the illness. Saying goodbyes and dealing with society's views are difficult. The many uncomfortable moments are wonderfully realized and what we take away from the film is much more than what happens in the end.
The term "Holding The Man" is one from the football glossary, referring to a transgression that incurs a penalty.