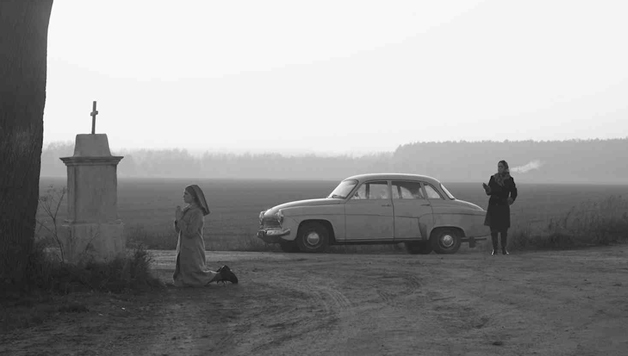 Mature themes
---
Poland/Denmark 2014
Director: Pawel Pawlikowski
Featuring: Agata Trzebuchowska, Agata Kulesza, Joanna Kulig, Adam Szyszkowski.
Language: Polish with subtitles. In black and white
Running time: 82 minutes
---
This Polish drama is a film intensely grounded in painful historical reality and still genuinely worldly. It depicts a sheltered young woman's voyage of self-discovery with clarity and compassion reminiscent of the films of the humanist tradition.
Anna is an orphan who's been raised in a Polish convent and she's about to take her vows as a nun when the Mother Superior breaks it to her that she has a living relative whom she must first visit. Though she's never even been as far as the local beach, Anna takes a train to the city to meet her Aunt Wanda, a woman who drinks, smokes and fornicates, and shows no tolerance for sentimentality. She has held a powerful position in the Communist Party as a state prosecutor and has been responsible for prosecuting death sentence cases.
Anna accepts this all stoically, but there are glimmers of her feelings when Wanda reveals that she is Jewish (as is Anna) and that Anna's real name is Ida. Wanda tells her that it's likely that her parents were murdered during World War II. The women set out to discover the truth and the movie gradually reveals it is as much about ruined Wanda as about saintly Anna/Ida. Whilst it is set in the early 1960s, the film has a timeless feeling. The Holocaust theme is potent, as the movie sombrely introduces issues of guilt and innocence, denial and complicity, and broods about how the past refuses to stay buried.
"Ida" is a movie of spirituality and compassion. But it's also remorseless and declines to pass judgements.
Original Review: Walter Addiego - San Francisco Chronicle
Extracted by Kim Pridham