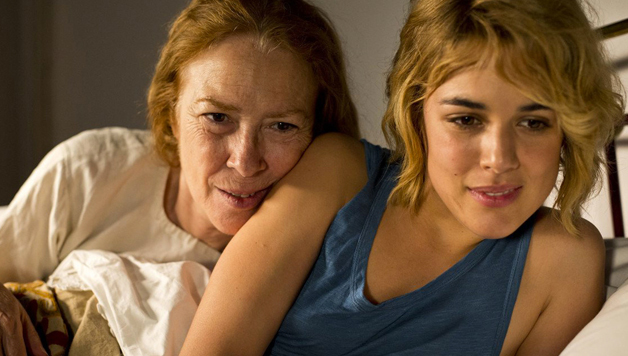 AGM before the film on Monday Mature themes and sex scenes.
---
Spain 2016 Director: Pedro Almodóva Written by: Pedro Almodóva, adapted from three short stories written by Alice Munro Featuring: Adriana Ugarte, Emma Grao, Inma Cuesta, Michelle Jenner Language: Spanish with subtitles Running time: 96 minutes Original review: Mathew Toomey, ABC Radio Extracted by: Gail Bendall
---
Spanish film director, Pedro Almodóvar, is not just an icon in his home country. Over the last 30 years, he has put together a superb resume that has earned him the respect of film lovers across the globe. He won Oscars for All About My Mother (1999) and Talk To Her (2002). His other works include Women on the Verge of a Nervous Breakdown (1988), Volver (2006) and The Skin I Live In (2011). Julieta is the latest creation from Almodóvar and fans will recognise his fingerprints throughout. For starters, it's a film with women at the centre. Julieta is a middle-aged woman who has spent a significant chunk of her of life in Madrid. After a lengthy period living alone, she has finally found love in the arms of the successful Lorenzo and the pair are about to immigrate to Portugal to start a fresh chapter in their lives. Julieta's plans change when she runs into a woman on the streets of Madrid who was the close childhood friend of Julieta's only daughter, Antía. She mentions that she recently spoke with Antía who is now living in Switzerland , and this strikes Julieta like a bolt of lightning. Her daughter has been missing for more than a decade and Julieta didn't even know if she was still alive. This unexpected encounter releases the dam on a flood of memories. Julieta sits at her desk, opens the first page of a blank journal, and starts writing. She begins with – "I'm going to tell you everything I wasn't able to tell you." With the stage set, Almodóvar's screenplay delves into the past by way of flashback. This is a powerful piece of cinema. A brooding film score from composer Alberto Iglesias further adds to the film's unsettling vibe. Selected as the Spanish entry for the foreign language film category at next year's Academy Awards, Julieta is for admirers of Almodóvar and for those who enjoy a mystery fuelled by the darker elements of human nature.