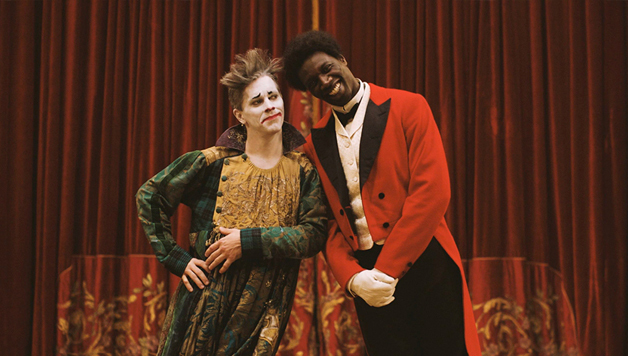 Mature themes, violence and coarse language
---
France 2016
Director: Roschdy Zem
Featuring: Omar Sy, James Thierree, Clotilde Hesme, Olivia Gourmet
Language: French
Running time: 119 minutes
Original review: Andrew Urban; Urban Cinefile
Extracted by: Kim Pridham

---
It's a bittersweet story of a shooting star, its trajectory similar to any one of a handful of rock stars and the like but given added depth, texture and resonance by history and circumstance. Rafael Padilla (not to be confused with the Guatemalan painter of the same name) died 100 years ago this year and the film reminds us that the world was a very different place then.
The film isn't about racial prejudice but about the frequent companion of artistic success: a tragedy. It's also about friendship, about the odd couple that was formed out of Footit the clown and Chocolat his fall guy.
Casting is always important, but in this film, it is absolutely crucial. Omar Sy is perhaps the obvious choice to play Chocolat, being a high profile black performer in France, with a comedic talent that underpins his dramatic work. But obviously, doesn't guarantee great results, Sy does. From the awkward to the assured, from the shy and insecure to the confident, Sy brings out the innards of his character and makes us care.
James Thierree, Charlie Chaplin's grandson (unmistakably so) and a genuine circus performer, works his inventive clown routines into the film with great success. He is a consummate actor. His emotional attachment to Chocolat builds on a complex set of feelings, conflicts and experiences they share.
Wonderful performances from all the cast; notably the two women in Chocolat's life, Alice de Lencquesaing as Camille, who runs away from the provincial circus to follow him to Paris but too late... and Clotilde Hesme as Marie Hecquet, the widow who nurtures and nurses him to the end.
The film captures the period in look and feel, the latter propelled by a terrific score from Gabriel Yared, and creates a haunting, sombre mood that lasts well after the end credits.