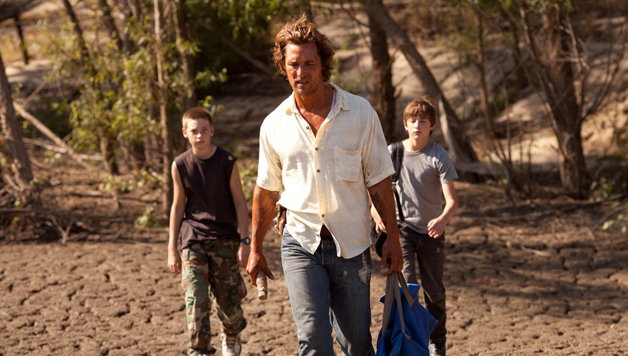 Violence and Sexual References
---
USA 2013
Director:Jeff Nichols
Featuring: Matthew McConaughy, Reese Witherspoon, Tye Sheridan, Jacob Lofland,
Sam Shepard
Running time: 130 minutes
---
The central image in "Mud," is of a boat in a tree. It's the kind of phenomenon — a caprice of nature that is absurd but also wondrous — designed to enchant adventurous children like Ellis and Neckbone, two Arkansas boys who discover the boat on an overgrown island in the Mississippi River. They also discover the fellow who claims to own, or at least inhabit, the vessel, a leathery loner whose name is Mud.
Ellis and Neckbone are a little afraid of Mud, but Ellis is immediately drawn to him, taking his wild stories at face value and adopting the man as a cause and a surrogate father. (Ellis's actual dad, is a stern and moody fisherman struggling with hard times and a failing marriage).
Mud, with only a pistol and a lucky shirt for protection, is hiding out on the island because some bad guys are looking for him, and because he is waiting to run away with the love of his life, a lady named Juniper . He needs help getting messages to Juniper, and his new young friends are happy to oblige, A lot of what Mud says turns out to be true. Juniper shows up at a nearby town, and so does a fleet of black Cadillacs full of dangerous-looking dudes. Even without this intrigue, Ellis has the usual coming-of-age business to contend with: the tension between his father and mother; his crush on a girl named May Pearl ; and potential problems with his sidekick, Neckbone, who lives in a trailer with his wayward uncle, Galen.
Though Mud's desperation eventually begins to show, his wit never deserts him. As the story tilts towards a climax, that never loses its confidence that a good story is not just about some crazy stuff that happens but also about the voice that does the telling.
Original review by A.O Scott-The New York Times
Extracted by Janez Zagoda