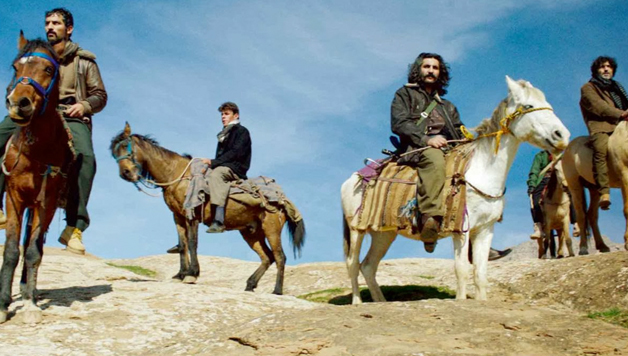 Mature themes, violence and coarse language
---
France/ Kurdistan 2013
Directed by: Hiner Saleem
Written by: Hiner Saleem, Antoine Lacomblez,
Featuring: Golshifteh Farahani, Korkmaz Arsian, Arlsan Korkmaz, Suat Usat.
Language: Kurdish, Arabic, Turkish
Running time: 105 minutes
---
The film opens in 2003. Saddam Hussein has been ousted and the new Kurdish government is proud to present their first ever execution. It is blackly comic and Baran, a former leader in the resistance, now a high raking security official, decides that pen pushing in the capital is not for him. Especially with his mother trying to fix him up with a wife. He transfers to become police chief in a lawless, remote, mountain village on the border between Iran, Iraq and Turkey. The local warlord, Aziz, does not want Baran as he seems like a Commander who will actually enforce the law. Nor does he like another newcomer, Govand, an educated independent minded woman appointed to teach in the local school. Nobody wants her at the school except the students who adore her. The headmaster is particularly unhappy when she takes up with Baran.
Aziz and his thugs oppose them both and mayhem ensues, complicated by the courage Govend displays in helping a group of female freedom fighters hiding out in the hills.
Baran and Govend make a sexy, glamorous pair, he makes a responsive romantic lead and actually seems to be listening to what Govend says.
Saleem sets the struggles of the pair against a stark, beautiful mountain landscape, to an eclectic sound track that combines tradition and modernity.
The western may have hit hard times but it's still adaptable and looks pretty good in Kurdistan.
Original reviews: Jordan Hoffman, film.com; Philippa Hawkins and Sandra Hall , SMH.
Extracted and compiled by Robin Claxton