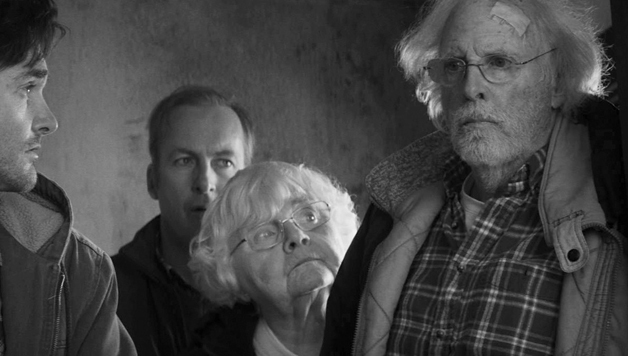 Coarse language and sexual references
---
USA 2013
Director: Alexander Payne
Featuring: Bruce Dern, Will Forte, June Squibb, Bob Odenkirk, Stacey Keach
Running time: 115 minutes
---
Woody Grant is obsessed with travelling to Nebraska. What's in Nebraska? A whole bunch of very flat land, long stretches of highway, and one million dollars. Woody's been determined to get his million dollars ever since he received a marketing sweepstakes promotion in the mail and became convinced that the money is real and waiting for him. Walking straight out the front door and down the highway on foot towards Nebraska some nine hundred miles away, Woody is finally offered a ride by his son, David who reluctantly agrees to play out this fantasy for the sake of spending time with his ageing, senile father.
Along the way, the father-son road trip takes a detour to Woody's home town of Hawthorne, Nebraska, where they're met by Woody's wife and David's older brother. There, the Grant family sifts through memories of Woody's past and try to convince him not to go through with the rest of the wild chase after a scam.
Woody is a little pathetic, a little sad, but somewhere in there has an open heart. He's been an alcoholic his whole life ("Beer ain't drinkin") and doesn't offer more than a few grunted words at a time to anyone. David comes to know his father in new ways, though, after visiting the places and people he grew up with. The town of Hawthorne is home to pieces of a man David didn't know existed, and by uncovering them he begins to sculpt away at a better image of the flawed man that raised him.
Beautiful Nebraskan landscapes sit in between each new scene, all of which is shot in unimposing black and white.
From the start, "Nebraska" isn't about the money. The joy is in discovering what the money really means to Woody and how far David will go to let him live out the fantasy of winning it.
Original review by Taylor Sinople-The Focus Pull, Film Journal
Extracted by Janez Zagoda