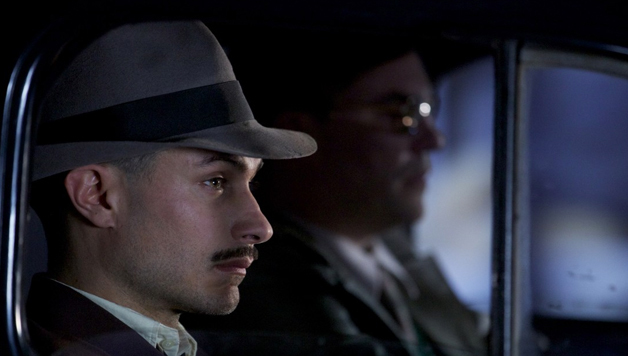 ---
Chile, Argentine, France, Spain 2016
Director: Pablo Larrain
Language: Spanish, French
Featuring: Gael Garcia Bernal, Luis Gnecco, Mercedes Moran
Running Time: 108 minutes
Original review: A.O. Scott; The New York Times
Extracted by: Janez Zagoda

---
"Neruda" a semi-fantastical biopic, is a warm-hearted film about a hot-blooded man that is nonetheless troubled by a subtle, perceptible chill. Blending fact with invention, it tells the story of a confrontation between the artist the Chilean poet Pablo Neruda and an emerging dictatorship, and more generally illuminates the endless struggle between political authority and the creative imagination.
It starts with Neruda, a prominent leftist politician as well as a literary celebrity, in a rhetorical war with Chile's president, an erstwhile ally in the process of moving from left to right. When the Communist Party is banned, Neruda, who represents that party in the Chilean Senate, goes from opposition figure to outlaw. It is a shaggy-dog cat-and-mouse game, as Neruda and his wife, Delia, are pursued by Oscar Peluchonneau, a preening police inspector who stakes his professional honour on his ability to track down the country's most famous fugitive. Peluchonneau is an invented character, a creature conjured from crime fiction and touched with philosophical melancholy as well as ruthlessness. Whippet-thin and strait-laced, he stands in dour contrast to Neruda, a plump sensualist with a robust sense of mischief and an inexhaustible appetite for pleasure. With and without Delia, the poet manages to stay one step ahead of his nemesis. Neruda is open to nature and humanity. The policeman is consumed by rules, tactics and procedures.
Neruda also composes "Canto General," his great, Whitmanesque work on the glories and miseries of Latin America. Pages are distributed clandestinely, and committed to memory by workers and peasants. Their popularity, and Neruda's easy going populism, are a rebuke to the arrogance of the ruling class and the Chilean state.
Peluchonneau is a tragically constricted soul, but not an entirely unsympathetic character. Neruda is a heroic figure — comic and Dionysian, brilliant and naughty — but his personal Javert is in some ways the film's protagonist. Neruda is annoyed and sometimes amused by the detective's doggedness, but Peluchonneau is haunted by the poet's mystique, and by a growing sense of his own incompleteness. A curious symbiosis develops between them, a dynamic more complex and strange than the simple conflict of good and evil.