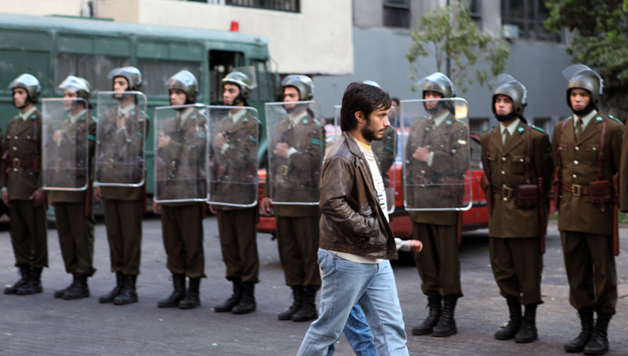 Coarse language and mature themes
---
Chile 2013
Director: Pablo Larrain
Featuring: Gael Garcia Bernal,Alfredo Castro,Antonia Zegers,Luis Gnecco
Language: Spanish with subtitles
Running time: 117 minutes
---
Under international pressure to legitimise his government, but bathing in the support of a newly prosperous middle and upper-middle class and hugely confident of success, General Pinochet allowed a referendum on whether he would be allowed another eight years in office. This movie dramatises the "No" campaign devised by young advertising executive René Saavedra,who decided to stay away from angry political images and instead emphasise an upbeat, almost apolitical vision of happiness and the future. For the Chilean left, merely participating in the Pinochet plebiscite was already a sell-out; now this young media type apparently proposed to take their resistance to tyranny and sell it like some Pepsi alternative to Pinochet's Coke.
The movie tracks Rene as he wrangles the idealists coordinating the campaign, brainstorms with admen colleagues and, with them, creates the advertisements — each side has 15 minutes a day for a month to make its case on TV — to persuade Chileans to vote "No". For the political idealists the campaign promises an end to tyranny and a democratic future. For Rene, at least initially, the No vote is just another consumer product, one that during the campaign he will transform from a want into a need with rainbows, white-faced mimes, dancing girls, smiling children, a basket of baguettes and a catchy jingle: "Chile, happiness is coming!"
The campaign triggers a serious debate about how much to remember, and how much to forgive. Larraín's film is simple and direct, heartfelt and involving, shot in a kind of televisual realist style, like the soap operas Saavedra had earlier been promoting, or indeed the nightly 15-minute TV spots the No campaign had to master to get through to the public.A fascinating case study in basic level democracy.
Original reviews Peter Bradshaw - The Guardian & Manohla Dargis - The New York Times
Extracted & compiled by Janez Zagoda