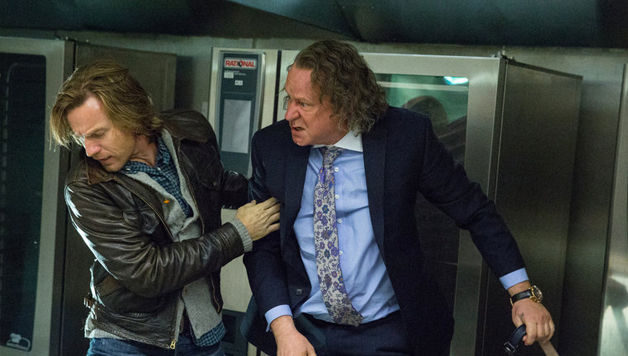 Strong coarse language.
---
UK, France, 2015
Director: Susanna White
Featuring: Ewan McGregor, Naomie Harris, Stellan Skarsgard, Damian Lewis
Language: English, Russian, French
Running time: 108 minutes
Original review: Mathew Toomey, ABC radio
Extracted by: Robin Claxton

---
Films of John le Carré's books never feel like you're watching an over-the-top action, you get the sense that these events could actually have taken place. That shouldn't come as a surprise given Carré's background. He started writing back in the early 1960s when employed by the British intelligence agency MI6. Many suspect his novels are based on truth but the reserved Carré keeps his cards close to his chest.
Our Kind of Traitor begins in Morocco with a British couple trying to get their rocky marriage back on track with a well-overdue holiday. Perry is a jaded poetry lecturer who recently admitted to sleeping with a university student. Gail is a well-paid lawyer.
Dining alone, Perry is approached by Dima, an extroverted Russian who invites him to a party which involves expensive booze, beautiful women, illegal drugs, and a few horses.
The next day, Dima reveals his true identity. He's the top money launderer for the Russian mafia and he'll soon be transferring a string of bribes to enable a Cyprus-based bank to operate in London. Included on the bank transfer list is a high-profile British politician.
Dima doesn't want to betray his Russian comrades but with no one else he can trust, he gives Perry a USB stick containing details of the money laundering and asks him to pass it onto MI6. His hope is that he can then negotiate safe passage to the UK for both he and his family.
Perry and Gail have to size up the situation and work out if it's worth risking their lives to save that of a complete stranger. Dima needs to formulate a plan that will allow him to communicate with Perry without attracting the attention of the Russian mafia. A top MI6 agent in London must convince his own bosses that the evidence against the British politician is credible and should be acted upon. There's a lot at stake and there are a lot of moving parts.