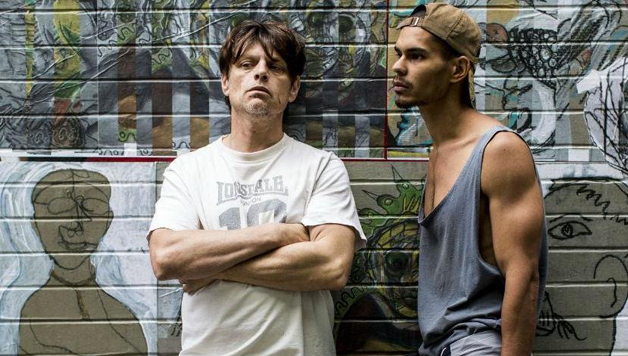 Strong coarse language and violence.
---
Australia 2016
Director: Paul Ireland
Featuring: John Brumpton, Maeve Dermody, Damian Hill, Malcolm Kennard, Mark Coles-Smith
Running time: 86 minutes
Original review: David Stratton, The Australian
Extracted by: Mark Horner

---
This is a contemporary drama, set in a Melbourne suburb, that boasts a perceptive screenplay, written by leading actor Damian Hill, and assured direction from first-timer Paul Ireland. It also has the benefit of an unusually strong cast of fine Australian actors, veterans alongside relative newcomers.
The film unfolds across a 24-hour period and the principal setting is a pawnshop in the suburb of Footscray. Les (John Brumpton), a laid-back middle-aged loner who drives an elderly Mercedes and whose chief companion is his dog, owns the shop and holds court there, from which vantage point he views the world with an air of jaded cynicism, his mood not helped by the fact he has a troubling toothache. His employee, Danny (screenwriter Hill), is something of a dreamer, reliable but not very proactive; as we discover late in the film, there's something else going on in Danny's life that's rather unexpected, given what we see of him in the pawnshop.
During the course of a day, we encounter several people who visit the shop or hover around the area. Some, such as a young girl with missing teeth who sings on a street corner, appear to be authentic inhabitants of the suburb.
The characters are insightfully drawn in Hill's screenplay, and the ensemble cast is pretty flawless. One of the engaging elements of the film is that every single character with which we spend time is interesting. Sometimes in this kind of film there are characters that prove to dominate all the others, but not here. The observation, in Hill's screenplay and Ireland's direction, is acute, and the actors are first-class. Add to the mix fine location photography by Shelley Farthing-Dawe and you have a film that's not only very Australian (some may say very Melbourne) in its ethos but also extremely enjoyable. Just one scene, in which Les violently assaults one of his customers, seems jarring, but this is a minor miscalculation in what is otherwise an outstanding example of contemporary independent Australian cinema.