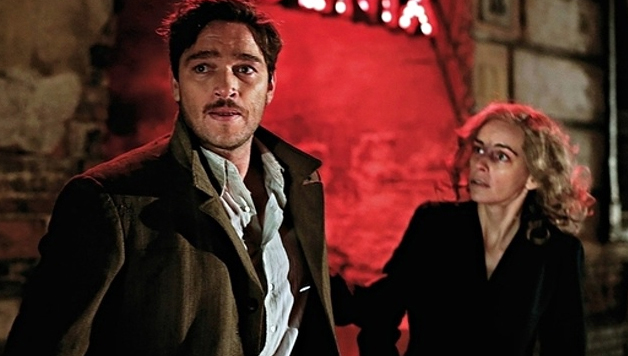 Mature themes and violence.
---
Germany 2014
Director: Christian Petzold
Featuring: Nina Hoss, Ronald Zehrfeld, Nina Kunzendorf
Language: German, English,
Running time: 94 minutes
Original review: Erica Abeel, Huffington Post, from the Toronto Film Festival
Extracted by: Janez Zagoda
---
It's post-war Berlin in the 40's and Nelly, a woman who was mutilated in the camps, is given a new face by doctors that makes her quasi unrecognizable. Now she's in line to claim her family's money and make a new home in Israel with her friend Lene, a Jewish aid worker. Instead, she trolls Berlin's underbelly in search of Johnny, the Gentile husband who hid her from the Nazis for a time, but may have ultimately betrayed her?
Nelly does indeed find him in a seedy nightclub called, you guessed it, Phoenix. What ensues is a strange dance between her and Johnny, who doesn't recognize her but, inspired by her unnerving resemblance to his wife, hatches a plan to use her to claim the family's cash. Nelly agrees and becomes her own impostor - the better to learn whether he loved or and whether he betrayed her. It's enough to give a girl Vertigo.
The tension mounts as the stage is set for the reunion with the family - Johnny has predicted what every reaction will be. Will the truth prevail? Will Nelly find out what really happened? Did Johnny betray his wife? And how will everyone else react, including Lene? And what of Johnny?
Yes, the premise may sound hokey, but once "Phoenix" wraps you in its spell you're caught. Partly because Petzold uses the setup to talk about German guilt over the past and Johnny's way of circumventing it. The director's use of close-ups is mesmerizing, as when the faces of these two fine actors fill the screen and their eyes lock as if trying to scan a truth they can't reach. Nelly's starkness matches Petzold's vision of National Socialism, which, in his words, "created an abyss into which you're thrown again and again."