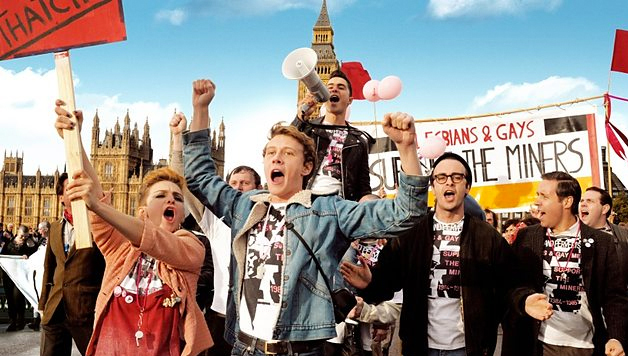 Mature themes, coarse language, sexual references and brief nudity
---
UK 2014
Directed by: Matthew Warchus
Featuring: Bill Nighy, George McKay, Ben Schnetzer, Imelda Staunton and Dominic West.
Running Time: 119 minutes

---
The winner of this year's Queer Palme at Cannes starts off at London Pride in 1984, with a decidedly nervous Joe, joining in for the first time. He teams up with a group of gay activists, led by the outspoken Mark, and they decide they want to help the striking miners. Finding a community to accept the money they raise proves to be tricky, but eventually they forge a link with a village in South Wales. And, by the time the 1985 London Pride comes around, it's been a year of laughter, learning and tears. Pride's portrayal of the 80s hits the mark, homophobia is the norm, as shown by the police, the Welsh villagers and London itself, and violence simmers underneath. And there's AIDS, then regarded as a death sentence. Mark runs into an old friend who's out on a bender and it's not hard to guess why.
That's not to say it's a sombre film. The issues are interwoven with a massively warm hearted sense of humour, which comes both from what today's audience sees as old-fashioned attitudes and the characters themselves. It's a film where the women get some of the best lines because, as far as the mining village is concerned, they're the more powerful characters.
It's a bold move to make a film with such a large, and often recognizable, cast but it pays off in spades. They all have their big moment, and each is equally important in both moving the story forward and painting a picture of the times.
Original review: Freda Cooper, Britflicks
Extracted by: Gill Ireland