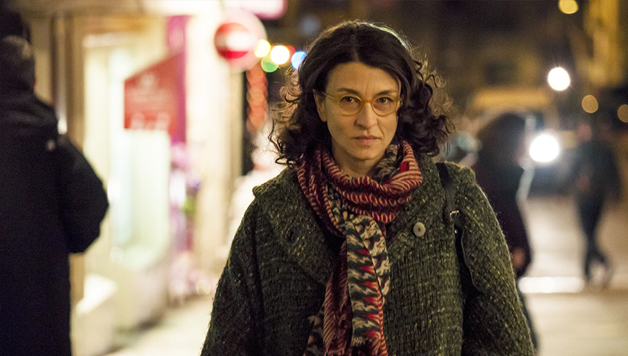 Coarse language.
---
France 2015
Director: Julien Rappeneau
Featuring: Noémie Lvovsky, Kyan Khojandi, Alice Isaaz
Language: French
Running time: 95 minutes
Original review: Chris Greenwood; A Sliver of a Film
Extracted by: Gill Ireland

---
"Happy? What does that mean? Sounds like a women's magazine" (Vincent's mother reacts in surprise at Vincent's question regarding his life so far).There is a short grab where the third person voice over, crucial to the flow of Rosalie Blum, states that Rosalie (Noémie Lvovsky) loves jigsaw puzzles because every piece fits perfectly. This minor scene sums up this extremely clever, quirky, funny and poignant film. Every scene has its place but it's only in the final minutes that we fully appreciate the sum of all its parts.
Jim Jarmusch experimented with conflicting points of view with exactly the same type of incident in Mystery Train (1989) and director Julien Rappeneau uses a similar technique to highlight the three key characters of Rosalie Blum; Vincent (Kyan Khojandi), Aude (Alice Isaaz) and Rosalie. It's the perfect technique to keep us actively putting the time frame and sequence of events perfectly in place.
Vincent is a man of low self-esteem but is looking to improve his lot. A series of coincidences as he attends to the whims of his overbearing mother, Simone (Anemone) lead him to the shop run by Rosalie. Rosalie is strangely familiar, he's captivated by her and so the puzzle begins to unfold. Aude is Rosalie's niece, and much of the film's comedy comes from her living environment and the task she is set by her aunt. The film is divided into chapters, the titles of which are the names of our 3 key characters.
Rosalie Blum is smart, thought provoking and wonderfully layered. The ending is not a surprise but the reason for Vincent's vigil is brilliantly original. It's the ease with which we relate to Vincent's light bulb moment that lingers. It's that final piece of a jigsaw that fits perfectly and there is a rush of aesthetic pleasure one gets when there is a satisfactory resolution, and there can be no doubt about this one.