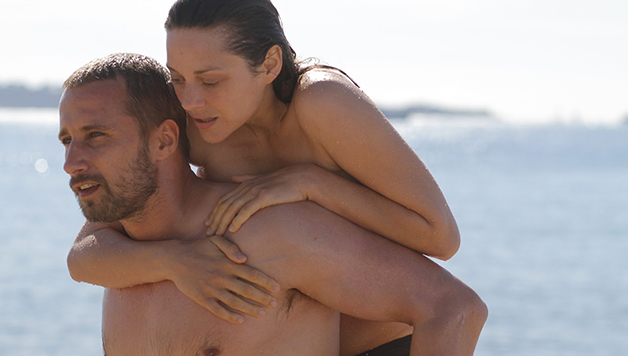 Strong Sex Scenes, Violence, Nudity
---
France/Belgium 2012
Director: Jacques Audiard
Featuring: Marion Cotillard, Matthias Schoenaerts, Armand Verdure
Language: French with subtitles
Running time: 122 minutes
---
Jacques Audiard's Rust and Bone, based on two short stories from a collection by Canadian author Craig Davidson (and slyly alluding to a third) is haunting and beautiful. Set amongst the workaday population of Antibes – who co-exist as ghosts next to the tourists and wealthy, swimming next to them at the beautiful beaches but living far from the beautiful hotels – Marion Cotillard and Matthias Schoenaerts give perfect performances as Stéphanie and Alain, two people unlikely to come together given most normal circumstances, but do, after Stéphanie is involved in a life-altering workplace accident. Their blooming friendship forms the basis of the film, and the more they learn about each other, the more we learn about them. The film achieves what all dramatic films should strive for: complete audience empathy for the main characters.
Audiard (whose diverse career not only includes the incredible A Prophet but also being involved in the writing team of Australia) is a major filmmaker, and as such has the ability to make films that are distinctly nonformulaic. His characters are real, even as their careers or circumstances may be exotic: criminals, whaletrainers, bouncers, surveillance experts, bare-knuckle fighters (and that's just characters in this movie). Their responses are driven by character rather than the demands of plot, and the two characters who collide in this movie are such fully realised human beings that you completely forget the actors behind the masks.
Rust and Bone was a serious Award winner and nominee over the last eighteen months, yet somehow it missed out on any Oscar nominations. Cotillard and Schoenaerts easily deserved nominations, but the screenplay, direction and soundtrack (Alexandre Desplat) all could have done with a nod. It's a rare movie that can take "literary" short stories, combine them, and achieve a film but Rust and Bone is a beautiful triumph of precise writing, directing and acting..
Original review: C.J.Johnson Film Mafia
Extracted by Gill Ireland