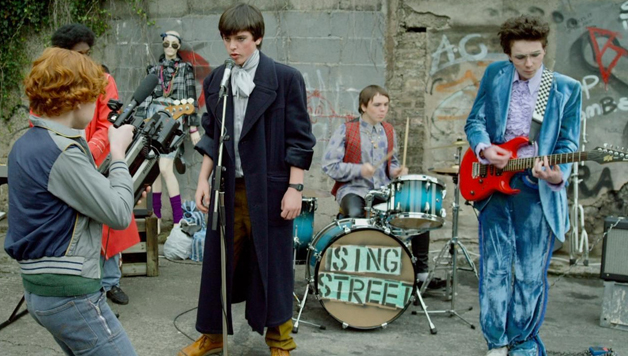 Coarse language.
---
Ireland, UK, USA 2016
Director: John Carney
Featuring: Ferdia Walsh-Peelo, Lucy Boynton, Mark McKenna
Running time: 105 minutes
Original review: Guy Lodge, Variety
Extracted by: Robin Claxton

---
Sing Street is a heart-melting adolescent romance that gives teenage garage bands everywhere a better name and gets away with even its cutesiest indulgences thanks to a wholly lovable ensemble of young Irish talent and the tightest pop tunes.
Connor, a well-to-do Dubliner relocated to a rough-edged boys' school when his parents hit the financial skids decides that music is the way to the heart of Raphina – a preternaturally cool teen. The year is 1985, and Connor is in thrall to Duran Duran's louche "Rio" video.
With the help of fellow school misfits, he cobbles together the eponymous tribute band Sing Street. Shortly afterwards they realise that performing original material is the way forward. They are soon cooking up catchy songs like "The Riddle of the Model". Raphina, enlisted as the star of the songs hilariously lo-fi video, is halfway impressed.
As in "Once" and "Begin Again" Sing Street's songs don't merely score or articulate dramatic events; they're dramatic events in themselves often shown in an array of compositional stages that mark the shifting and strengthening nature of the relationships between those by whom, and to whom, they're performed.
Sing Street is a love story and not one between musicians: The ebb and flow of creative collaboration is secondary to the more conventional push-pull of boy-meets-girl drama. Never the less the truest and most tear-jerking relationship is that between Connor and his lank-haired college-dropout brother.
A closing credit dedication "For brothers everywhere" is a sentimental gesture that feels fairly earned.