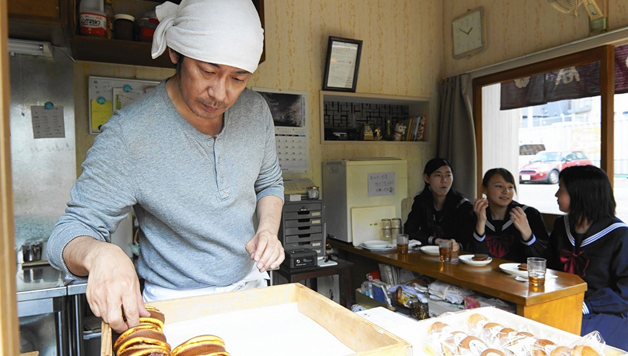 (An)
Mature themes.
---
France/Germany/Japan 2015
Director: Naomi Kawase Featuring: Kirin Kiki, Masatoshi Nagase, Kyara Uchida
Language: Japanese Running Time: 109 minutes
Original review: Louise Keller, Urban Cinefile
Extracted by: Gail Bendall

---
In contemporary Japan Sentaro (Masatoshi Nagase) runs a small bakery that serves dorayakis - pastries filled with sweet red bean paste ("an"). When an old lady, Tokue (Kirin Kiki), offers to help in the kitchen he reluctantly accepts. But Tokue proves to have magic in her hands when it comes to making "an".
Cherry blossoms, sweet bean paste and secrets are some of the ingredients of this involving drama in which a confectioner, schoolgirl and elderly woman cross paths. Based on Dorian Sukegawa's book and selected to open Cannes' Un Certain Regard in 2015, Naomi Kawase's film uses the symbolic bean paste that fills the pancakes her protagonist makes that brings together her three main characters. Simply told with plenty of heart, the film explores the simple joys that relieve burdens and unite souls.
The cherry blossoms are in full bloom when we meet Doroyaki stall manager Sentaro, schoolgirl Wakana (Kyara Uchida) and 76 year old Tokue, who is the catalyst for change. When he hires Tokue against his better judgment for the part time job he is advertising - mindful of her age and crippled hands, he quickly finds her input makes a huge difference not only to his business but to his perception of life. An (the chunky, sweet bean paste) is the soul of the Doroyaki, Tokue tells him, replacing his commercially bought filling with the one she painstakingly makes herself. Word of the new doroyaki travels quickly and business booms.
Word also travels quickly concerning the secrets that both Tokue and Sentari hide. Keep a tissue handy: it is at this point that the film's mood changes and becomes soulful with some highly moving scenes. It's a charming film about nature, relationships and living for today.