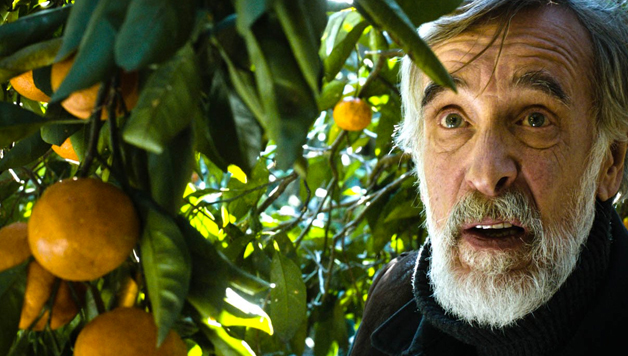 Strong coarse language.
---
Estonia/Georgia 2014
Director: Zara Urushadze
Featuring: Lembit Ulfsak, Elmo Nuganen, Giorgi Nakashidze, Misha Meskhi.
Languages: Estonian, Russian, Georgian
Running time: 87 minutes
Original review: Stephen Farber, The Hollywood Reporter.
Extracted by: Janez Zagoda
---
The film takes place in 1992, during the conflict between Georgia and Abkhazia that displaced many people. Among the displaced were many Estonians who have lived in the area for over one hundred years, but returned to their homeland during the war. However, two Estonian men, Ivo a carpenter and Margus an orchardist, remain in a village in order to harvest the season's crop of tangerines. While they are going about their business, they get caught in the crossfire between two small bands of rival soldiers. Two of the fighters survive. Ahmed is a Chechen mercenary on the Abkhazian side, and Niko is a Georgian. Both are badly wounded, but the two Estonians take them in and nurse them back to health. Although the two rival combatants vow to kill each other once they have recovered, their time spent convalescing softens their belligerence.
That's really all there is to the story, and it's certainly not a novel one. But the film turns out to be highly effective; thanks to the skills of the actors. Nakhashidze captures the brutishness of the Chechen without denying his humanity. Meskhi makes a good foil. Niko was an actor before the fighting raged, and Meskhi suggests the diffidence of a more reluctant warrior. But the strongest performance comes from veteran Lembit Ulfsak as the older Estonian man who shelters the two enemies in his home. His character, Ivo, has obviously suffered his own losses, and Ulfsak conveys the necessary world weariness, along with a deep-seated compassion that comes from observing senseless hostilities over the course of a lifetime.
Director Urushadze films the rural landscapes with a poetic but unsentimental eye, so that when the bucolic scenes are blasted by gunfire, the impact is even greater. The wistful, melancholy score by Niaz Diasamidze subtly enhances the film's power. This story is obviously destined to end badly, but the mournful, oddly redemptive conclusion seems exactly right.