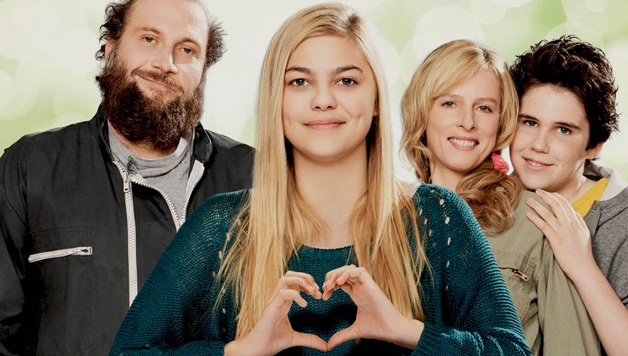 (La Famille Belier)
Coarse language.
---
France 2015
Director: Eric Lartigau Featuring: Karin Viard, François Damiens, Eric Elmosnino, Louane Emera
Language: French
Running time: 105 minutes
Original review: Louise Keller and Andrew L.Urban, Urban Cinefile
Extracted by: Gill Ireland
---
Good comedy rests on genuine dramatic foundations, a rule this film surely affirms. A family of deaf parents and a deaf son, with a daughter, Paula whose hearing is perfect - and who has 'a gold nugget' in her throat as music teacher Fabien Thomasson (Eric Elmosnino, excellent) discovers, when Paula is coerced into auditioning for the school choir. She can sing beautifully. The screenplay has plenty of fun with the elements, not least the fact that not everyone knows that the Bélier family is mostly deaf. But they are not disadvantaged: their dairy farm produces cheese, thanks to mum Gigi , which they sell at the local market, with Paula doing the talking.
But of course, the prime relationship is the one tested by Paula's opportunity to audition in a Paris radio station for a prestigious and rare position in the opera chorus. It's her golden chance to leave the restrictions of provincial farming life ... but how can she abandon her family, for whom she is a vital link with the world, as the translator of the spoken word.
Promoted as France's Number 1 film of the year, the film soars by grace of its wonderful screenplay, grounded firmly in everyday reality, dealing with issues large and small. The pace is great, the warmth of the family abundantly clear - even amidst their internal arguments - and the resolution beautifully realised as an uplifting finale to a film full of acute observations about human nature. And a superb debut by Louane Emera as Paula with the 'gold nugget' in her throat.