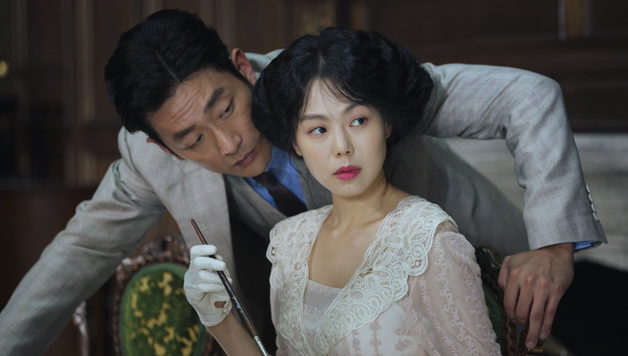 High impact sex scenes
---
Korea 2016
Director: Park Chan-wook
Featuring: Min-hee Kim, Jung-woo Ha, Jin-woong Jo
Language: Korean, Japanese
Running time: 144 minutes
Original review: Manohla Dargis; New York Times
Extracted by: Anne Green

---
The art of the tease is rarely as refined as in "The Handmaiden." Set in Korea in the 1930s, this amusingly slippery entertainment is an erotic fantasy about an heiress, her sadistic uncle, her devoted maid and the rake who's trying to pull off a devilishly elaborate con.
The same could be said of the director Park Chan-wook, who has an attention to voluptuous detail. Everything inside the manor and out has been calculated to enchant, from the grounds with their carpets of green and bursts of flowering trees to the interiors with their wood panelling and floral wallpaper. Nothing is more perfect than Hideko's petal mouth with its lusciously carnal red lipstick.
The film opens with Sookee, a pickpocket and one of the film's heroines, weepily saying goodbye to some adults and wailing children. She's off to work for Lady Hideko, a pale beauty who lives with her tyrannical uncle, Kouzuki, a collector and purveyor of art and rare erotic books whose darting tongue has turned black from his ink pen.
The uncle has raised Hideko from childhood, away from the world, intending to wed her for her fortune. He's also turned her into a puppet, having trained her to read erotic fiction allowed for the delectation of his potential customers. Fate in the form of the con man intervenes. Disguised as a count, he insinuates himself into the uncle's home and seemingly into the niece's affection, enlisting Sookee in the ruse as Hideko's new maid. The count plans to marry Hideko and then ditch her, a plan that seems doomed when Sookee and Hideko's lady-maid intimacy steams and then boils over.
The inspiration for all this intrigue is Sarah Waters's ambitious 2002 novel, "Fingersmith," a lesbian romance set in Victorian Britain. In adapting the movie, Mr Park, who wrote the script with Chung Seo-kyung, has moved the story to Korea during the Japanese occupation.