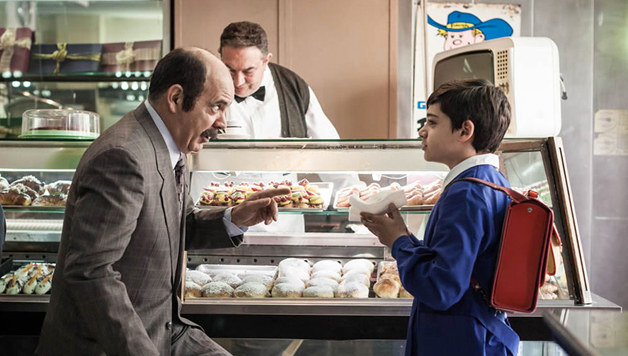 (La mafia uccide solo d'estate)
Violence, coarse language and sex scene.
---
Italy 2014
Director: Pierfrancesco Diliberto
Featuring: Cristiana Capotondi, Pif, Alex Bisconti, Ginevra Antona
Language: Italian
Running time: 85 minutes
Original review: Jeannette Catsoulis, The New York Times
Extracted by: Janez Zagoda
---
The curious title comes from something a father tells his son early in this wry and original film. The little boy, Arturo is growing up in Sicily in the 1970s. He has heard talk of the mafia, partly because they killed a bunch of their own in the building in which he was conceived, in Palermo, in 1969. We see this as a comedic cross-cut, with the mafia killers entering the building as Arturo's daddy enters …well, you can guess that bit. The boy and the bad guys are forever entwined now. Seven or eight years later, Arturo is worried. Will they kill us, too, he asks his papa, No, says his father, desperate to allay his fears. "It's winter now. The mafia kills only in summer.
Pif, filming in his native Palermo, Sicily (and without paying a Mafia protection fee), plays Arturo, a virginal klutz whose lifelong brushes with mob misbehaviour parallel his ceaseless yearning for the beautiful Flora. Conceived during a massacre in his parents' building, young Arturo finds that almost every adult he admires — or shares a pastry with — winds up whacked. Politicians, judges and crime bosses litter the streets while the citizens of Palermo refuse to acknowledge the wise guy killers in their midst.
The flesh of the story is fiction, but its bones are real. Cleverly folded-in archival footage (some of it fabricated) underscores a time when the wholesale murder of prominent figures forced the Cosa Nostra into the light. (A sequence at the end honouring well-known anti-Mafia cru-saders probably left many Italians soggily nostalgic.) As is the pivotal romance: Arturo is a dolt and Flora a cipher. They may be the only two people in town who aren't connected.