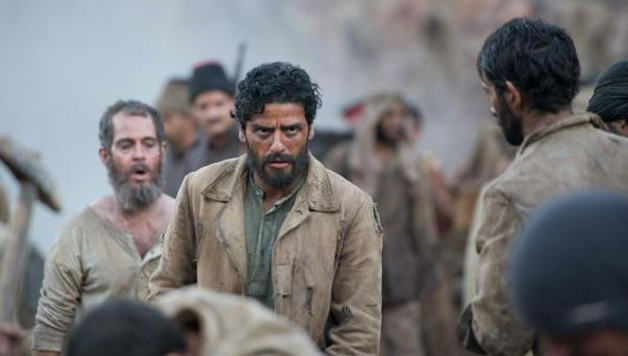 Mature themes and violence
---
Spain, USA 2016
Director: Terry George
Featuring: Oscar Isaac, Charlotte Le Bon, Christian Bale
Language: English, Armenian, German, French
Running Time: 133 minutes
Original review: L .and R. Clifford; Reeling Reviews
Extracted by: Gill Ireland

---
In 1914 Siroun, Turkey, Mikael Pogosian (Oscar Isaac) dreams of expanding the services of the apothecary run by his parents. He becomes engaged to Maral (Angela Sarafyan), whose dowry will enable him to attend medical school in Constantinopole. Staying with his well-to-do uncle, Mikael meets the beautiful Ana (Charlotte Le Bon). He is smitten, but until they are thrown together in an outbreak of Turkish violence, he respects her relationship with American journalist Chris Myers (Christian Bale) and his own responsibility to "The Promise."
The passionate project of former MGM head Kirk Kerkorian, who died as the film went into production, was always a risk, a financial gamble sure to enrage the Turkish government who long denied the Armenian genocide (the film's backers have pointed to its low IMDB score, amassed from 27 times more people who could have possibly seen the film at the time). It is a story that has been all but ignored cinematically (there are a few exceptions, Atom Egoyan's 2002 film-within-a-film "Ararat" probably the most well-known). Unfortunately, as brought to the screen by co-writer (with Robin Swicord)/director Terry George ("Hotel Rwanda"), that may still be the case.
The film is worthwhile to understand the horrors faced by an entire race during WWI, something that was extensively reported in the U.S. Mikael endures endless tragedies, including the loss of his entire village (save his mother Marta, played by Iranian-American actress Shohreh Aghdashloo) and the Turk (Dutch-Tunisian actor Marwan Kenzari, 2016's "Ben-Hur") who stood up to his father to befriend him. Casting is frequently the problem here, Kewpie doll French Canadian actress Le Bon an odd choice indeed for the committed Armenian she portrays here. Big names pop up distractingly in what amount to cameos but all the actors do a solid job in bringing to light this story of the long-buried inhuman genocide of hundreds of thousands, if not millions, of people whose "crime" was living in peace with their neighbours – until that peace came to a crashing end at the hands of despots. It is a story that should be known and "The Promise" does a solid, credible job in telling it.