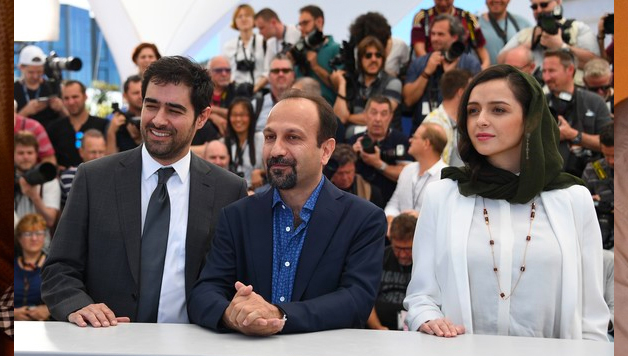 (Forushande)
Mature themes.
---
GIran 2016
Director: Asghar Farhadi
Featuring: Taraneh Alidoosti, Shahab Hosseini, Babak Karimi
Language: Persian, English
Running time: 124 minutes
Original review: Felipe Freitas; Always Good Movies
Extracted by: Gill Ireland

---
Asghar Farhadi, an Iranian writer-director with a knack for profound dramas ("About Elly", "A Separation", "The Past"), returns with "The Salesman", another heartfelt story branded with uncomfortable dualities. The nature of this tale, set and shot in Tehran, will make you ponder about what's right and wrong, and confront you with a few moral questions that bear on justice, compassion, forgiveness, and retaliation. Emad, (Shahab Hosseini) is a well-liked teacher who shares a huge passion for theatre with his wife, Rana (Taraneh Alidoosti). They star in Arthur Miller's play "Death of a Salesman", putting every drop of inspiration on their roles. Even in the play, they are husband and wife, playing Willy and Linda Loman.
The building where they live is about to collapse due to adjacent construction and structural deficiencies, forcing them to an immediate evacuation. With no place to go, they accept the help of a fellow actor, Babak (Babak Karimi), who finds them an apartment that has just become vacant. The woman who lived there before had a bad reputation. She left all her belongings in the apartment due to some last-minute difficulties.
One night, while Rana is showering, someone rings the buzzer. Convinced it is Emad, who had left minutes before to go to the neighbouring supermarket, she opens the door and returns to the bathroom. To her surprise, she's violently assaulted by a stranger who, on running away, leaves a pair of socks on the floor, some money, and his car keys in the apartment. Rana is taken to the hospital, returning emotionally debilitated, yet unwilling to report the case to the police. However, little by little, she starts giving signs of recovery but Emad keeps trying to identify the offender through the vehicle he left outside and concocting a plan to have his revenge.
The final part brings revelations and resolutions that lead to a whirlwind of internal conflicts and emotions.
"The Salesman" might not be as striking as "The Separation", since it is slightly more manipulative, but is a powerful piece of cinema that authenticates Farhadi as the most predominant contemporary Iranian filmmaker.