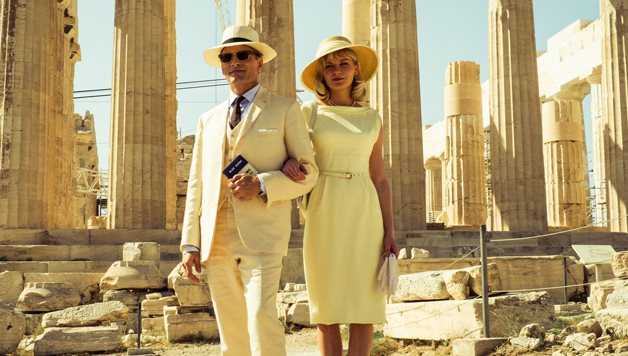 Violence and infrequent coarse language
---
France/UK/USA 2014
Director: Hossein Amini. From the 1964 novel by Patricia Highsmith.
Featuring: Viggo Mortensen, Oscar Isaac, Kirsten Dunst
Running time: 96 mins
---
The work of Patricia Highsmith makes a triumphant return to the big screen. Filled with sharp thrills and nostalgic glamour, Amini's adaptation is one of the most impressive features of the year.
The film follows con-artist/businessman Chester MacFarland and his wife Collette who are accidentally responsible for the death of a private-eye whilst hiding in Greece. The pair seek help in American ex-pat Rydal who agrees to help them escape the country safely.
It does not attempt to modernise Highsmith's source work - instead finding and accentuating the nostalgic glamour and noir-like charm found in its period setting. Highsmith's narrative (adapted by Amini) still feels remarkably fresh and just as gripping - with the focus on betrayal, backstabbing and undercutting - seen through the volatile and distrusting relationship between Chester and Rydal remaining timelessly thrilling.
It is clear that Amini thrives on the unexpected twists in the source novel - and he delivers them here with a tightly wound tension and remarkable style. Seeing the unlikely group travel through Athens and Crete mixes a scenic backdrop with brooding paranoia - resulting in a beautiful yet sinister world where private eyes lurk round every corner and each man is in it for himself.
The combination of Highsmith's ever-thrilling literary mind and Amini's tense and engaging direction, this is a gripping watch. Rich visual detail in the form of jaw-dropping gorgeous costumes and photography, coupled with magnetic performances help The Two Faces of January assert itself as one of the finest films of 2014
Original Review by Andrew McArthur – Culture Fix
Compiled by Gail Bendall