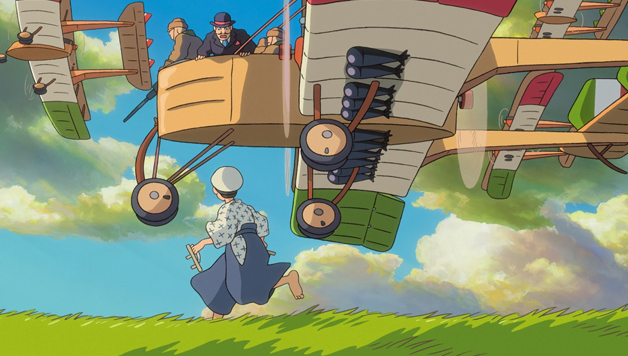 Mild themes
---
Japan: 2013
Director: Hayao Miyazaki
Animation with voices of Joseph Gordon-Levitt, John Krasinski, Emily Blunt, Martin Short, Stanley Tucci.
Language: Japanese, German, Italian, French
Running Time: 126 minutes.
---
The amazingly detailed, somewhat old-school visuals that emphasize soulful natural scenery instantly immerse viewers in the dream world of protag Jiro Horikoshi,a heroic, self-effacing boy who becomes a brilliant young aeronautics engineer. The character is based on the real-life Jiro Horikoshi, the man who designed Japan's Zero fighter, used against Pearl Harbor and in kamikaze operations. It is also a tribute to poet-novelist Tatsuo Hori, who struggled with tuberculosis.
The early scenes of the film depict the 1923 earthquake which devastated Tokyo and Yokohama. It was followed by a firestorm and typhoon, all magnificently and frighteningly rendered as college-bound Jiro travels on a train. It is there he meets and saves his future love Nahoko as a young girl.
In these pre-war years, the studious young Jiro gets a job and is quickly promoted by the chief engineers at Mitsubishi to head the project design for a new fighter plane.
A recurring dream of Jiro's is meeting the flamboyant Italian airplane inventor Giovanni Caproni, who takes him on incredible flights aboard fantasy aircraft. They literally "share their dreams" of pioneering futuristic planes. Of a darker stripe is his actual encounter with Hitler's aviation designers, who are menacing and secretive. But not even they can be called true villains in a film that shows WW2 from the Axis side as an inevitable calamity over which people had no control. The war itself remains off-screen, except for a chilling final vision "Not a single plane came back," says Jiro disconsolately. "That's what it means to lose a war." This attitude of regret, but not apology, makes The Wind Rises a very honest film from a great Japanese artist.
Original review by The Hollywood Reporter @ the Venice Film Festival
Extracted by Janez Zagoda