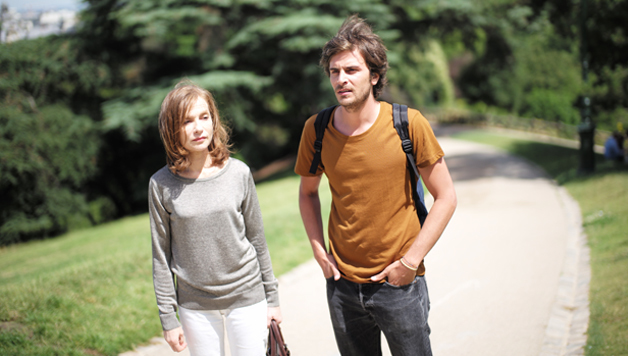 (L'Avenir)
Coarse language and drug use.
---
France 2016
Director: Mia Hansen- Løve
Featuring: Isabelle Huppert, André Marcon Edith Scob
Language: French
Running Time: 102 minutes.
Original Review: Lucy Popescu; Cinevue
Extracted by: Gill Ireland

---
Mia Hansen-Løve's fifth feature, Things to Come, is an introspective exploration of a woman losing her moorings and facing up to old age. Isabelle Huppert plays Nathalie, a high school philosophy teacher. When Heinz (André Marcon), her husband of twenty-five years, also a philosophy lecturer, admits he has met someone else, she asks "Why did you tell me?" When he reveals that he is going to move in with her, Nathalie responds "I thought you would love me forever." It's a heartbreaking moment, haunting in its simplicity but for the most part, Hansen- Løve's screenplay tackles profound questions with an intensity that some filmgoers might find off-putting.
Nathalie is delivered a series of emotional blows which cause her to question her own sense of self. Not only does she separate from her husband, a short time thereafter she also loses her mother, Yvette (Edith Scob, delivering a terrific performance as a demanding former model). Nathalie's academic reputation is also threatened when she is abruptly dropped by her publisher who deems her philosophy textbook to be unimaginatively presented, despite the durability of the essays within. Protégé, Fabien (Roman Kolinka), a young writer, then deserts her, both intellectually and geographically, by moving to a remote farmhouse to join a commune of anarchists. Despite a growing vulnerability, Nathalie battles bravely on, continuing to teach and finding solace in the pages of books. But one of the questions explored by Hansen- Løve is whether intellectual independence can ever be an adequate substitute for emotional security?
Huppert's finely nuanced portrayal of Nathalie's interior life and conflicting emotions is impressive. Beautifully shot by Denis Lenoir, Things to Come is a poignant study of ageing and loss, given a quintessentially French treatment by Hansen-Løve, but it never fully ignites. Although there is a suggestion that Nathalie's life will acquire new meaning through her
grandchild her future is plagued by uncertainty just as her emotional journey meanders without actually arriving anywhere, so does the film.