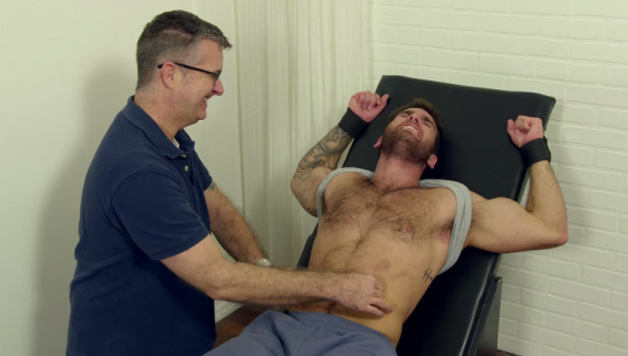 Strong coarse language.
---
New Zealand 2016 Director: David Farrier
Featuring: David Farrier, Dylan Reeve, David Star, Hal Karp
Running Time: 92 minutes
Original review: CineMusefilms
Extracted by: Peter Gillard

---
Whether it is drama, comedy or documentary, New Zealand filmmakers punch above their weight. This documentary is one of the most unusual films you will see for a long time and a guaranteed conversation starter in the right company. While the film's title suggests comedic titillation, what it reveals is something more sinister that has wrecked many lives. It is also a fine example of how dogged investigative journalism can stumble from something that appears innocuously weird into something bizarrely dangerous.
Pop-culture journalist David Farrier specialises in fringe phenomena and his premise is that if someone spends a fortune to stay anonymous they have something serious to hide. He comes across something described as "competitive professional tickling" that involves the filming of young athletic males being tied down and tickled by one or more other young athletic males, all fully clothed. His initial inquiries to understand more about this activity are so aggressively stonewalled that he turns his investigation into a documentary with most of the filming in the United States. Expecting to find a secretive cult of homoerotic activity, he finds participants who have been subjected to extraordinary legal threats, extortion, and public shaming. The scale of intimidation and the lengths to which perpetrators are prepared to go indicate there is big money involved. Farrier and his team-mate Dylan Reeve use old fashioned stakeouts, doorstop confrontations, and forensic web-based research to turn the study of a fringe fetish into a gripping thriller.
This is a well-produced documentary, especially for a novice filmmaker. Minor criticisms aside, like Farrier's occasional tendency to tell rather than show and a few scenes that need tighter editing (like the time spent in the car stake-out), the overall pace, direction and content make this a totally engaging film. The hand-held filming technique and the unexpected twists and turns in the investigation impart real-time-discovery effects. The work is riveting from the laughter-filled opening scenes to the chilling closing credits.