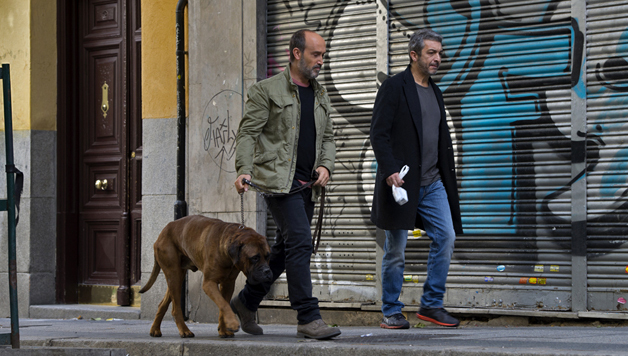 Strong sex scene.
---
Spain 2015
Director: Cesc Gay
Featuring: Ricardo Darin, Javier Cámara, Dolores Fonzi
Language: Spanish with subtitles and English
Running time: 109 minutes
Original review: David Stratton, Weekend Australian
Extracted by: Kim Pridham

---
Tomas, who has been living in Canada for many years, makes an unannounced flight to Madrid to reconnect with his old friend Julián, an actor dying of cancer. Julián's cousin Paula has alerted Tomas to the fact Julián has decided to terminate his treatment and hopes Tomas will persuade his friend not to do this. Soon after Tomas's arrival, it becomes clear that Julian's mind is made up and he has no wish to prolong his suffering. He's quite resigned about it, and his main concern is the fate of his beloved boxer dog, Truman.
From these basic ingredients co-writer and director Cesc Gay has created a gentle, wise and beautiful film.
The structure consists of sequences in which Julián, accompanied by the supportive Tomas, sets out to settle his affairs. He has a son studying in Amsterdam, and the two men take an impromptu flight to the Dutch city to meet him, with Tomas always paying the bills as Julián is cheerfully broke. There are visits to dog lovers who might possibly adopt Truman and to a vet to inquire about the problems of canine grief.
There are two encounters in restaurants with old friends; one who ignores Julián because he doesn't know what to say to a man he knows is dying, and the other who forgives him for having sex with his wife, an act of faithlessness that led to divorce. One of the most incisive sequences involves a visit to a very smart funeral parlour where an unctuous salesman explains the various types of urns and coffins available.
Although Truman is about a man nearing the end of his life, it's never overly melancholy. A quiet humour suffuses this tender insight into the importance of friendship.