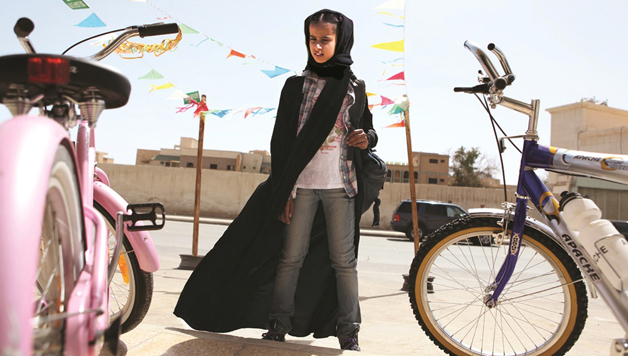 Mild Themes
---
Saudi Arabia 2013
Language: Arabic with subtitles
Written and Directed by: Haifaa Al-Mansour
Featuring: Waad Mohammed, Reem Abdullah
Running time: 98 minutes
---
Not many feature films have been made in Saudi Arabia. Even more remarkable in a patriarchal, totalitarian society is Wadjda, the first Saudi film to be scripted and directed by a woman, Haifaa Al-Mansour. It's a simple tale, boldly shot and simply told. Young Wadjda dreams of getting a bicycle and racing her best friend, Abdullah. No big deal for us, but for a little girl in Riyadh, riding a bike and associating with boys are immoral acts.
Seen through our eyes, the sought-after bike is a metaphor for freedom, in a fable of repressed female individuality. But the subversive brilliance of this film is its clever tightrope trick, walking the thin line between critical analysis of the position of women and a moral tale of the dangers of female freedom.
Wadjda, played by spirited 12 year-old Waad Mohammed, sets about raising cash, selling mixtapes and friendship brace-lets, and even faking an interest in a cash-prize competition to recite the Koran. What we read as young Wadjda's blossoming feminism could be argued by fundamentalists, as her descent into immorality and deceit as a means to purchase the soulless object of her desire.
Set against a backstory in which Wadjda's father is seeking a second wife so that he might have the son Wadjda's mother failed to give him, this is bold storytelling, clev-erly circumventing censorship to secure its place in history as a watershed moment in Saudi cinema.
That it's also engaging, sweet, humorous and moving is no mean feat.
Original Review: Adam Fresco, Fliks
Extracted and compiled by Gill Ireland