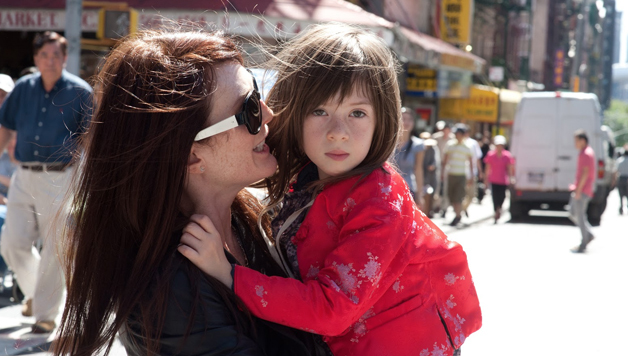 Mature themes
---
USA 2012
Directors: Scott McGehee, David Siegel
Writers: Nancy Doyne and Carroll Cartwright, from a book by Henry James
Featuring: Julianne Moore, Steve Coogan, Alexander Skarsgard, Joanna Vanderham and Onata Aprile.
Running time: 99 minutes
---
"What Maisie Knew" gives the audience a ground-eye view of its mesmerizing title
character, a plucky, charismatic New Yorker who navigates downtown bars and
lobbies with the street savvy of a pro. That she's 6 years old only adds to her
considerable charm. Played by the young Onata Aprile in a galvanizing performance,
Maisie is recognizable to anyone familiar with the tribal elders of Manhattan, with
their prematurely sophisticated offspring. Practiced in the arts of tipping and self-care,
Maisie confidently makes a place for herself in the soaring townhouse she shares with
her continually fighting and preoccupied parents: Susanna, a slightly aging rock star,
and father Beale, an art dealer.
Mostly, Maisie hangs out with her nanny, Margo, a warm, tender presence amidst the jagged edges of Susanna's and Beale's monumental self-absorption. It is a portrait of a young girl growing up in material wealth and emotional poverty. It's her fate to be under the care of privileged, attractive, fundamentally careless people. When Lincoln, one of Susanna's hangers-on, appears more frequently on the scene, he's careless, too.
"What Maisie Knew" belongs entirely to Maisie, who keeps a watchful eye on the psycho-drama swirling around her even when she doesn't seem to quite comprehend it. What Maisie
knows, of course, is the difference between feckless affection and genuine security, and that she's eminently deserving of the latter. At the risk of committing a spoiler, it's fair to say that "What Maisie Knew" is a harrowing but finally happy story — if only because it's the young, wrenchingly vulnerable heroine who manages to save herself.
Original review by Ann Hornaday, Washington Post
Extracted by Gail Bendall