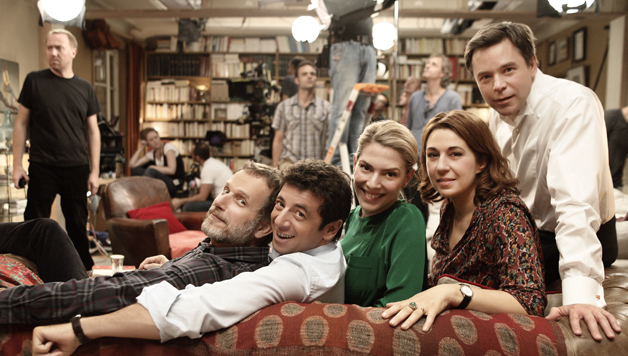 Coarse language and sex scenes
---
France 2012
Directors: Matthieu Delaporte and Alexandre de la Patelliere
Featuring: Patrick Bruel, Valérie Benguigui, Charles Berling, Guillaume de Tonquedec
Language: French with subtitles
Running time: 110 minutes
---
This film is adapted from a successful play written by the Directors. Most of it takes place inside a homely old apartment in Paris. The comedy is a lot of fun and seems action packed but the surprises are all sprung with words alone and a principal cast of just 5 people (who also performed in the play).
Elizabeth, and her husband Pierre, are holding a Moroccan banquet and have invited her brother Vincent, and his pregnant wife Anna. Whilst they wait for Anna to arrive, Vincent a real estate agent and inveterate prankster, tells the group which includes the sensitive trombone playing Claude, that the new baby is to be called Adolfe.
Initial disbelief turns to dismay and argumentative discussion before things become personal. Elizabeth is flabbergasted. To her, altering the spelling makes no difference. The baby's life is going to be blighted by the thought he has been named after Hitler. Pierre, a flamboyant, leftist academic always primed for debate, feels the same way. By the time Anna has arrived the battle is raging and she further inflames things by scoffing at the rather fancy names Elizabeth and Pierre have chosen for their own children. Claude is stuck in the middle but one of the belligerents turns on him, irritated by his passivity and things rapidly get personal, bringing on startling revelations. These are people so used to spending time together they have long since dumped the rules of polite conversation and regard their rows as sport but each has chunks of hidden life and secrets and is vulnerable under the glare of the spotlight.
Original reviews: Sandra Hall, SMH; Urban Cinefile.
Extracted and compiled by Robin Claxton.