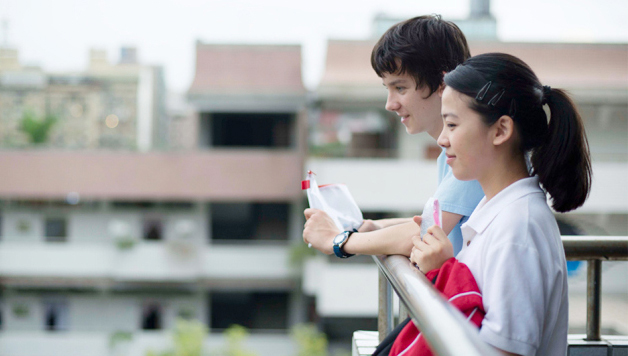 (A Brilliant Young Mind)
Mature themes and coarse language
---
USA 2014
Written by: James Graham Director: Morgan Mattthews
Featuring: Asa Butterfield, Rafe Spail, Sally Hawkins.
Running Time: 111 minutes
Original reviews: Louise Keller, Urbancinefile; Sandra Hall, Sydney Morning Herald.
Extracted and compiled by: Gail Bendall
---
"On the spectrum" – meaning the spectrum between Asperger's syndrome and autism – must be one of medicine's most misused terms. These days, it's routinely invoked by amateur diagnosticians to describe foot-in-the-mouth politicians or a boss who's never heard of commonsense. Nathan, the teenage hero of X+Y, is the real thing. Diagnosed in early childhood, he has a neuro-developmental disorder that brings with it a fascination with numbers, colours and patterns of light. These preoccupations have turned him into a mathematical whiz.
Nathan is pale and lanky with dark hair and an intent, wide-eyed expression, as if he's tuned in to music that no one else can hear, which is often the case. He has plenty to say but is afraid to say it. His talents in mathematics lead him to the prestigious International Mathematical Olympiad, where for the first time (at a training camp in Taipei), he is surrounded by kindred spirits. Like Nathan, they have brilliant minds and varying degrees of similarly anti-social behaviour.
After a fellow Olympiad candidate points up the close relationship between music and maths, lights, numbers and sounds come together in his head and he begins to hear music everywhere he goes. His relationship with other human beings is more difficult. His father, who might have eased his way, dies in the car accident that opens the film and Nathan, who is five at the time, never recovers. By then, he's already decided that his mother, Julie, is not as smart as he is. In other words, not worth talking to. Much as this hurts her, she responds with love and forbearance. Everything comes together at a coffee shop in Cambridge, when Nathan and Julie have the most important conversation of their lives and where complex equations are used as a meaningful metaphor.
This is a beautiful film on many levels.