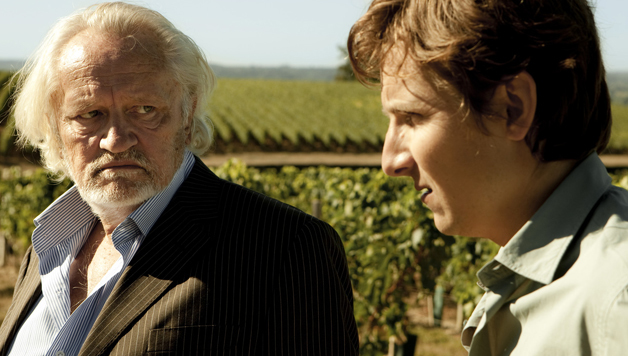 Mature themes, sexual references and coarse language
---
France 2012
Director::Gilles Legrand
Featuring: Neils Arestrup, Lorant Deutsch, Patrick Chesnais, Anne Marivin, Nicolas
Bridet, Valerie Mairesse, Jean-Marc Roulot, Urbain Cancelier, Xavier Robic
Language: French with subtitles
Running time: 102 minutes

---
Wine does not tolerate hesitancy according to Paul de Marseul, a successful and arrogant vineyard owner whose life revolves around the creation of the perfect wine.
The cross Paul bears is his son, Martin, is his greatest disappointment. By contrast the charismatic Philippe Amelot, the son of Francois his winemaker, is everything a father could wish for and he has the nose and palate required to develop the wine of Saint-Emilion. Among the serene, beautiful vineyards and the chateau where they live there are fierce battles taking place. Francois is battling a terminal illness which prompts Philippe to visit his ailing father from California. The dynamic changes and with Philippe clearly better qualified to take over the business than Martin, Paul's scheming ambitions become obvious.
In a change of scenery, Paul is invited to accept a prestigious award and he takes Philippe to Paris with him. They check into the plush Grand Intercontinental Hotel, with its large foyer full of white orchids and its spectacular mirrored, circular ballroom and Philippe is mistaken for Paul's son. The caption in the newspaper published the next day also identifies him as such. The 2,900 euro shoes Paul gifts Philippe are the final straw for Francois, Philippe's father, and the repercussions reverberate as a major battle is set between the two fathers for whom wine-making has been their entire lives.
This is a potent story about fathers and sons, a theme which filmmaker Gilles Legrand builds beautifully and devastatingly. There is great irony in the contrast of the hatred and jealousies portrayed while set in an industry whose elegant product is created for pleasure and when the moment of truth arises, there is no hesitancy.
Original Review: Louise Keller www.,urbancinefile.com.au
Extracted by Kim Pridham