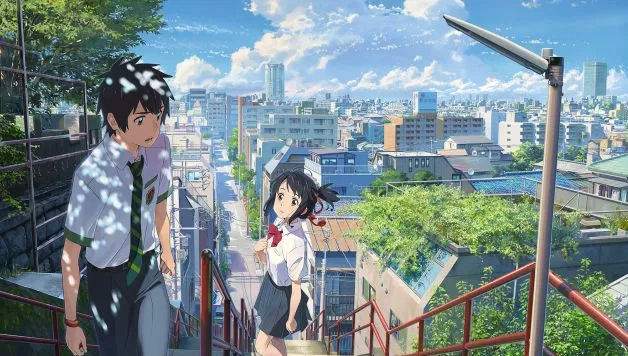 Mild themes and coarse language.
(KIMI NO NA WA)
---
Japan 2016
Director: Makoto Shinkai Writers: Makota Shinkai
Voice Cast: Kamiki Ryûnosuke, Mone Kamishiraishi, Ryô Narita
Language: Japanese Running Time: 106 minutes
Original review: Kate Stables; Sight and Sound
Extracted by: Peter Gillard

---
Makoto Shinkai's dreamily emotional anime romance, the highest grossing film in Japan this year at ¥15bn and counting, has unsurprisingly set off a wave of speculation about whether Shinkai is 'the new Miyazaki'.
Your Name, a body-swap story in which Tokyo boy Taki and country girl Mitsuha find themselves switching lives when they fall asleep, is very much a teen romance. Though he admits the influence of Japanese body-swap classics such as the 12th-century tale Torikaebaya Monogatari and the 1982 high-school comedy Tenkosei, Shinkai's story uses the switching sensitively to examine teenage identity and isolation. Full of the gulps and emotional highs of teen interaction, the voice work by Kamiki Ryunosuke and Mone Kamishiraishi gives Taki and Mitsuha respectively the depth to mine these issues, even for those of us reliant on the subtitling.
But as the film progresses, it starts to mix its genre ingredients intriguingly, adding a time-travelling supernatural element and the tense challenge of a natural disaster. The meteor strike that threatens Mitsuha's sleepy lakeside town Itomori in the film's second half is obviously a metaphor for the 2011 Tohoku earthquake and tsunami. It's incorporated skilfully into the supernatural side of the narrative, which itself grows from the film's strong themes of Shinto spirituality (Mitsuha is a 'miko', a Shinto priestess). However, the film does experience a kind of plot indigestion late on, as the romantic strand which seeks to reunite Taki and Mitsuha threatens to derail the urgent quest to save Itomori. Overuse of teen-fave Radwimps' power ballad Sparkle similarly endangers the story's emotional peaks.
As the film swings back and forth between mountain shrines and Shinjuku Station, it eloquently and elegantly expresses not only teen confusion but also the tensions between old and new Japan.